'Stone Fruit' is a general word for fruits with a layer of fleshy, edible pulp surrounding a big, hard pit (the 'stone') that covers and protects a seed, such as peaches, nectarines, plums, and cherries. One of the most popular stone fruits is peach. California produces more than 80% of the nation's stone fruits, with peaches accounting for 70%, plums for 95%, and nectarines for 99% of total US output.
Peaches are a popular fresh fruit baked into pies and cobblers. They are also sweet and juicy fruits. They are an excellent source of vitamin C and antioxidants, both of which boost immunity. With thousands of new types being created, it is one of the significant fruits of deciduous trees. Geographical segments of the fresh peach market include North America, Europe, Asia-Pacific, South America, and Africa. Throughout the forecast period, the market for fresh peaches is anticipated to expand at a CAGR (Compound Annual Growth Rate) of 3.2%.
Numerous health advantages of fresh peaches include enhanced digestion, lowered blood pressure, a stronger immune system, and a reduced chance of chronic illnesses. While white-fleshed peaches are more typical in Asian countries, yellow-fleshed peaches are more frequent in the United States.
Peaches include dietary fibers, low levels of carbs, vitamins (A, C, E, and niacin), as well as minerals including potassium, copper, manganese, and phosphorus. As a result, peach breeders intend to create cultivars with better eating qualities and health advantages. Fresh fruit consumption is rising as people become more conscious of leading healthy lives, which in turn is driving the fresh peach industry. To concentrate more on nutrition and fitness, people are becoming more aware of the quantity of calories in the food they eat. Peaches are grown for commercial purposes in several nations, including China, Spain, Turkey, and the United States. They are sold both fresh and processed. There were 24.9 million tons of peaches produced worldwide as of 2021. The market is expanding because of these reasons more and more.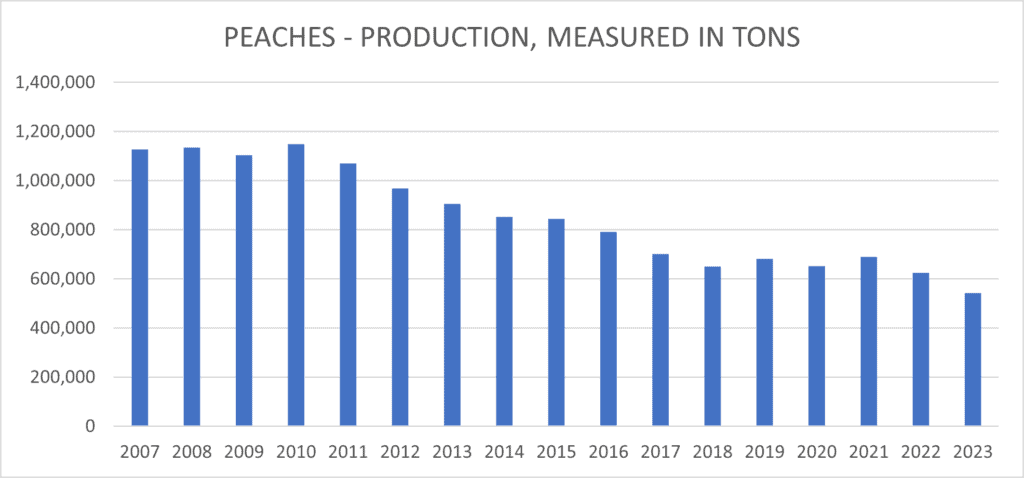 USDA, Lending acres, Gofin Data Solutions Inc.
The United States, Spain, Italy, and China are the top four countries in the world for peach production. As China has recovered from the crop losses brought on by snow damage, the USDA (United States Department of Agriculture) predicts that peach production will reach 21.8 million metric tons in 2022. An increase is projected from 1.0 million tons to 16.0 million tons.. Fresh peaches have unique health advantages that have elevated their status as a crucial component of a heart-healthy diet, significantly fuelling market expansion.
Nectarines
Nectarines are grown in South Africa, the United States, Australia, and other nations all along the Mediterranean Sea. Each nation in the European Union has recently expanded its output. Around 12,000,000 tons of peaches and nectarines are reportedly produced worldwide each year. World's Top 5 peach and nectarine Producing Countries are China, Spain, Italy, Greece, and the USA.
Most nectarine types also require a cold hibernation period with winter temperatures below 45 degrees Fahrenheit to develop successfully. Apart from the Chilean nectarine, which is in season from December to March, nectarines are available from the end of April to the end of August. Depending on the kind, the summer months of June, July, and August are the busiest. 43%of the import value of processed peaches comes from Thailand. An extra 15% come from China and 13% from Chile. According to the USDA 2022 data, crop damage from late winter and early spring freezes in the top three growing states of California, South Carolina, and Georgia, is likely to cause a decline in U.S. production of over 100,000 tons to 605,000. Exports are expected to be pressured to drop to 70,000 tons due to reduced supply, while imports might increase to 35,000 tons.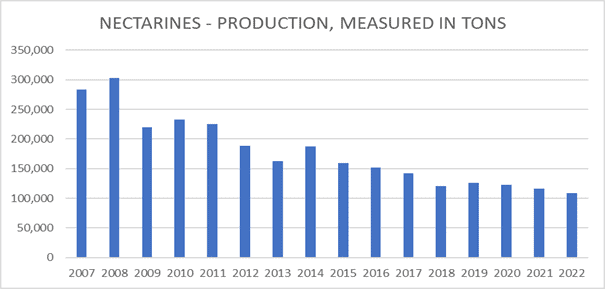 USDA, Lending acres, Gofin Data Solutions Inc.
Plum
The European plum (Prunus domestica) and Japanese plum (Prunus salicina) are two commercial types of plums, with European varieties mainly grown for processing into dried plums and Japanese varieties for the fresh market. European plums are mainly grown for processing, while Japanese plums are primarily grown for the fresh market.
 The marketing season for California plums is from May 15 to October 20, while for California prunes it is from August 20 to April 15. Schools are increasingly focusing on healthier food options, and dried plums are an excellent option for food service operators to introduce into their schools. They can be pitted and eaten whole or used to improve processed foods, and plum puree is a great substitute sweetener for reduced-fat baked goods. Foodservice operators and farmers can benefit from this substitution through the Farm to School programs.
Additionally, selling fresh and dried plums can be done through farm stands, farmers' markets, U-pick operations, and Community Supported Agriculture (CSA). CSAs involve the community in the farming experience, providing them with the working capital needed to run the farm, better prices for their crop, and eliminating time and money spent on marketing avenues. In 2021, the United States produced 80,660 tons of fresh plums, down 17% from 2020, from 12,800 acres. The total value of the crop was $91.7 million, and 71,110 tons of prunes (dried plums) were produced from 37,000 acres. Chile provided 91% of the imported plums to the United States, accounting for 91% of the total.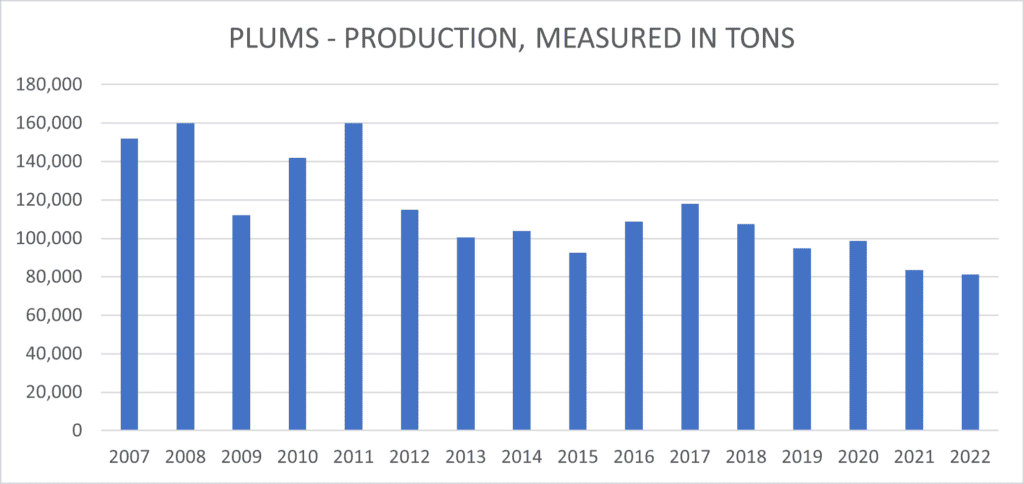 USDA, Lending acres, Gofin Data Solutions Inc.
Cherries
The United States produces two main types of cherries: sweet cherries (Prunus avium) and tart cherries (Prunus cerasus). Washington, California, and Oregon are the primary sweet cherry-producing states, accounting for almost 90% of the quantity produced nationwide. Michigan is the primary tart cherry-producing state, accounting for nearly 74% of tart cherry production. Marketing channels for sweet cherries are from April 25 to June 15, while for tart cherries, it is from June 25 to August 15.
Cherries are consumed in various ways, including fresh, frozen, canned, juiced, wined, brined, and dried. From 2014-2016, an average of 75% of sweet cherries produced were destined for the fresh market, with the remaining 25% used for processing. U-pick operations are a way to add value when marketing fresh cherries, as direct farm-to-customer interaction builds relationships and leads to a higher percentage of repeat customers. Smaller farms can sell their entire harvest through direct farm-to-customer marketing avenues, while larger farms need multiple avenues for sales, including wholesale.
 Cherries sold through wholesale avenues will go through a packinghouse, and working with a reputable packinghouse close to the farm can help add value to the price received for the fruit. In 2021, the United States produced 305,720 tons of fresh sweet cherries, valued at $820.1 million.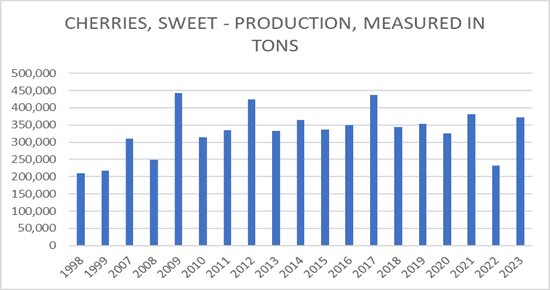 USDA, Lending acres, Gofin Data Solutions Inc.
The United States is the second-largest producer of cherries in the world, with Turkey being the leading producer. In 2021, fresh cherry prices averaged $2,680 per ton, while processed cherry prices averaged $690 per ton. The United States exported sweet fresh cherries in 2021, valued at $456.4 million. Canada was the largest market for fresh sweet cherry exports ($154.3 million), followed by South Korea ($101.9 million), and the United Kingdom ($21.9 million). In 2016, per person consumption of all cherries was 2.2 pounds. Over the last few decades, total cherry consumption in the United States has remained relatively stable, with peak consumption in 2009 at 2.5 pounds per person and a low of 1.2 pounds per person in 2002. The total amount of sweet cherries produced in the United States decreased to 231.7 thousand tons in 2022. This constitutes a decrease of almost 150 thousand tons compared to the peak in production in 2021.