Almonds are a delightful and healthful food that can boost one's cognitive function. Almonds are a nutritious snack with several health advantages. It is one of the most popular nuts that is consumed in a variety of ways. Almonds include nutrients that may aid in the prevention of cancer, the strengthening of bones, the promotion of a healthy heart, and other benefits—a handful of almonds (about 1 ounce) supplies one-eighth of a person's daily protein requirements.
Almonds are used globally for their health advantages and are also used as culinary ingredients. As a result, the expanding food inclusion industry will boost the growth of the global almond market over the forecast period. Almonds can be stored for a longer period as compared to fresh fruits and can serve as convenient snacks, particularly on long flights, and they do not require refrigeration, which is why they are generally recognized across the world.
Consumer expenditure in several developing nations, such as India and China, has increased as living standards have risen. Furthermore, growth in the working population numbers, as well as rising industrialization and urbanization, has raised the demand for well-preserved goods. As a result, almonds now have a big opportunity.
California is one of the world's largest producers of almonds, California's almond harvest is expanding rapidly, and it already possesses the world's most significant tree nut production. Almonds are regarded as an imported crop in the region for both export and domestic uses and with the growing acceptance of almonds as a nutritional solution alternative, demand is expected to rise further.
The 2020/2021 crop yielded 3.1 billion pounds, followed by the 2021/2022 crop yielding 2.92 billion pounds, and the current crop losing roughly 2.55 billion pounds.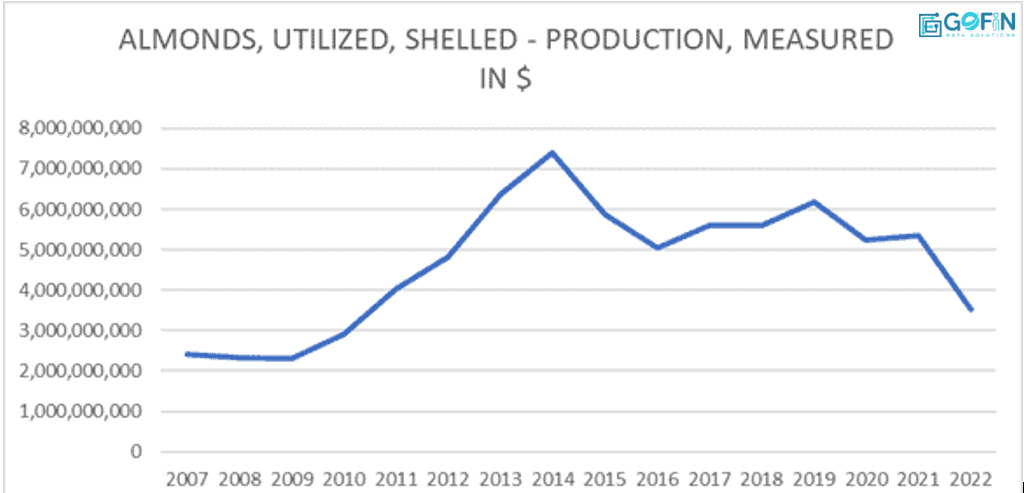 Source- USDA, Lending acres, Gofin Data Solutions Inc.
Almonds continue to be in high demand due to their nutritional benefits and adaptability. In response to rising demand, certain states outside the typical almond-growing zones, such as Georgia, Florida, and South Carolina, are considering boosting almond production. Researchers and agricultural professionals are investigating the potential of cultivating almonds in these climate-friendly states. It will be fascinating to observe how these new places contribute to the United States' position as a global leader in almond farming as output develops.
Over the projection period, the worldwide almond market is predicted to rise at a CAGR of 4.47%, reaching a total market value of US$12.073 billion by 2025, up from US$9.286 billion in 2019.
Global economic conditions remain turbulent, with rising inflation and almond consumption decreasing in several industries. This is also true for our home market in the U.S., which is the largest and most developed almond market in the world.
Until now, exports have been transactional; however, if prices continue to rise, this might slow things down. Domestic production is already lagging, and this sector cannot afford to lose any possibilities, regardless of next year's harvest. Shipments in February and March 2023 were all at cheaper prices, resulting in historic record shipments. Future shipments may suffer because of lower sales in these two months.