The Supply Chain scenario was very volatile in 2022 internationally. Port disruptions, rail strikes, driver shortages, and other issues plagued it. According to industry analysts, supply networks might take up to 2-3 years to recover.
The primary cause of current supply chain issues is global political chaos. Existing supply chain challenges, according to business experts, are mostly caused by global political upheaval (58%), scarcity of raw materials (44%), and rising gasoline and energy costs (40%). Only 31% listed inflation as a key factor.
Businesses were unprepared for the substantial shifts in consumer purchasing behavior that occurred during the pandemic and suffered financial consequences as a result. From the start of the pandemic, over half of the company executives have seen some financial effects from supply chain concerns in the last few years.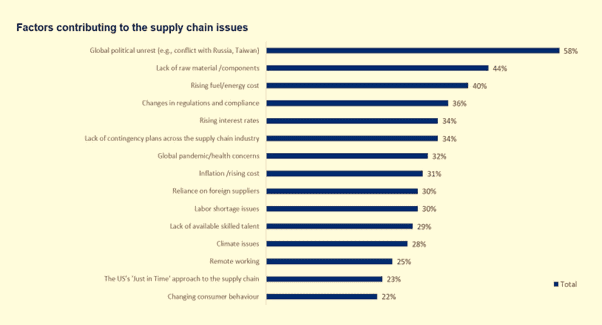 The Covid-19 pandemic still has an impact on the industry. Businesses are having difficulty achieving their production targets. A crisis in the supply chain has resulted in affecting essential constituents including raw materials and components. For example, inventory management and forecasting, lack of raw materials, and other supply chain constraints prevented manufacturers from fulfilling the rising demand for their products in 2022. Economic recession, unemployment, and the Covid-19 epidemic also contributed to supply chain disruptions. The global political crisis, increasing truck driver shortage, port congestion, and imbalance in the number of shipping containers affected shippers and carriers throughout the last year.
In 2023, Supply Chain will most certainly continue to be disrupted, affecting industries such as logistics, manufacturing processes, raw materials, and labor supplies. Global economic recession and rising inflation rates will also cause workforce and labor problems throughout the supply chain.
Additionally, soaring inflation has become a global phenomenon with different intensities and trigger points. Notably, some emerging markets and developing countries have seen rising commodity prices without capital inflows or nominal exchange rate appreciation, resulting in higher domestic pricing for consumers.
According to Commerce Department data issued on Friday, consumer prices in the United States climbed by 0.6% month over month in January after growing by 0.2% in December. On an annual basis, prices grew 5.4% higher than in December, for a 5.3% gain. Nonetheless, the Federal Reserve's inflation indicator, the personal consumption expenditures price index, rose 5.4% year on year. Core inflation, which excludes volatile food and energy costs, climbed by 4.7% yearly.
Notwithstanding these difficulties, individuals will continue to ship supplies and create new projects by adopting the following steps to compete with the increasing demand:
Regulate the Supply Chain - Geopolitical tensions, natural disasters, pandemics, and other disturbances can all influence transportation, causing delays and crucial goods shortages. Manufacturers should do a risk assessment, identifying potential disruption sources such as natural disasters, political instability, and regulatory changes. Then, map the supply chain and ensure that the steps of the supply chain, including suppliers, logistics providers, and distributors. It is also critical to keep up with industry news and regulatory developments to anticipate future disruptions and respond accordingly.
Using Technology to track and monitor the supply chain- This can help manufacturers in identifying possible concerns early on and taking measures to mitigate them. Companies provide a variety of monitoring and visibility solutions for supply chain logistics, including RFID (radio frequency identification) and GPS (Global Positioning System)-based tracking systems for cargo containers, pallets, and individual products.
Diversifying the supply chain- The global supply chain is a complicated and ever-changing world that may be challenging to understand Manufacturers, on the other hand, may limit the consequences of global supply chain concerns on their businesses by understanding the challenges, diversifying their supply chain, and interacting proactively with suppliers and logistical partners, Manufacturers can limit their reliance on a single source by acquiring materials from several vendors and diverse places, reducing the risk of political upheaval or natural calamities in a certain geographic region.
Manufacturers may better prevent interruptions, cut costs, and, ultimately, finish projects on schedule and under budget by employing these tactics. Also, strong demand and pricing may help to remain profitable this year.
Keeping ahead of the supply chain developments can also help to ensure that supply chain interruptions have the least impact on the industry. It is never too early to begin supply chain planning to guarantee that the supply chain is flexible enough to withstand the consequences of variables such as global trade challenges, manpower shortages, and other unanticipated occurrences such as the COVID-19 pandemic.