Florida is one of the leading producers of citrus crops in the U.S. More than 375,000 acres of this state produce oranges, grapefruit, tangerines, etc., contributing more than 6 billion dollars annually. Florida is the world's second-largest producer of citrus and 100% orange juice in the United States. More than 95% of oranges are grown in Florida. Americans depend on Florida for juice consumption. In 2016-17, Florida produced 68.7 million boxes of oranges. The Florida Citrus industry contributes 8.6 million dollars to the state of Florida and supports 45,000 jobs.
Hurricane Ian came on shore on Wednesday, September 29, 2022, and had a harmful impact on the state of Florida and the Florida Citrus industry. Hurricane Ian's strong winds scattered thousands of oranges on the ground. But even worse was the flood and rain waters that weakened the orange trees in a non-recoverable way.
Hurricane Ian hit the citrus groves hard, and the operations of the citrus industry and cattle industries also damaged large fields of vegetables like tomatoes and peppers.
The chart below shows that oranges production in Florida decreased yearly since HLB was found. But due to COVID-19, the demand for orange juice has increased recently. Even though prices have increased because of such market dynamics, the effect of Hurricane Ian has added more problems for citrus production and a price spike.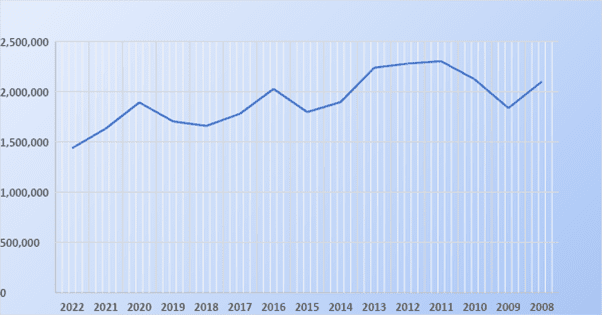 As per historical records of USDA, Florida's citrus production fell by 1.3 million tons from the hurricane-free 2016/17 season and the total production dropped by 39%. On October 12, 2022, USDA's National Agricultural Statistics Service released a citrus production estimate of about 1.4 million tons for the 2022/23 crop year.
Prior to the storm, citrus production in Florida was already forecast to drop by a third compared to last year, because of winter freezes and ongoing disease problems, as planted areas have been falling yearly due to real estate development and the spread of the citrus greening disease. According to the U.S. Department of Agriculture (USDA), U.S. orange production was estimated to fall 13% to its lowest in over 55 years at 3.5 million tons before the storm.
The key source of orange juice for much of the nation will take another hit, which will cause an estimated loss of approximately $304.2 million. According to The University of Florida, estimated losses wouldn't make an impact on consumer prices, but the storm is expected to push prices upward and can force orange juice producers to depend more on California and imported oranges from Latin America.
An estimated 375,302 acres (2022 USDA Commercial Citrus Data) of citrus production was affected by the hurricane or tropical storm-force winds. Total crop losses are estimated at $686,788,157 to $1,246,549,185; while total losses to agriculture production and infrastructure are estimated at $1,180,714,303 to $1,888,305,886.
It damages various sectors of the economy in different ways:
Damage to animal and animal products, including aquaculture and dairy: $337 million to $492 million.
Damage to fruits (other than citrus) and vegetables: $154 million to $231 million.
Damage to field crops (including sugarcane): $86 million to $160 million.
Damage to horticultural crops: $154 million to $297 million.
There were losses to the livestock industry too-250 beef cattle died due to the storm, and more than 257,000 calves are currently in critical condition. As per reports, an estimated 1.6 million acres of pasture faced significant erosion and flood damage.
There is also damage to mankind, more than 100 people died in Florida from the storm, and nearly half of those were from the hardest-hit Lee County, where the powerful Category 4 Hurricane Ian came ashore with 155 m.p.h. (259 kph) winds on Sept 28, 2022.